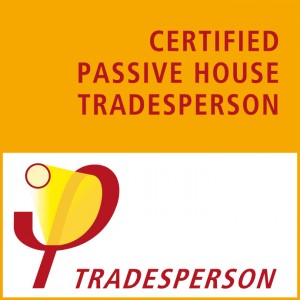 I qualified as a Passivhaus Tradesperson.
Although I'm a Passivhaus Designer already I'm looking at doing some training for contractors around low energy buildings. For research and some top up learning I went on the BRE Passivhaus Tradesperson course along with Bill Butcher from Green Building Store.
The course is a slimmed down version of the Designer course and I was surprised at the level of technical content, although the exam was much easier and multiple choice. The BRE delivered a translated version of the PHI German material which was dry. There was a lot of powerpoint, no physical example materials, and mainly German project examples.
Thankfully I passed the exam. In German this makes me a Passivhaus Handwerker, a somewhat dubious title!